DEFINITION:
A "wind setback" is the distance a wind turbine can be from a residence or property line. It can be defined based on property boundaries or dwellings/houses within the boundaries.
HISTORY OF SETBACK PROVISIONS IN OHIO:
In 2014, in an unrelated piece of legislation (House Bill 483), Ohio adopted a new "wind setback" law that halted all new projects. Since then, not a single new project has been filed with the Ohio Power Siting Board that complies with the setbacks. It has served as a moratorium on any new wind energy projects in Ohio. Prior to this moratorium, a dozen projects were permitted with two types of setbacks in place:
House Setback: The setback from a "habitable structure" was 1,125 feet, plus the length of the blade, or about 1300 feet.

Property Line Setback: The setback from a property line was a simple formula– 1.1 times the height of the turbine at its highest point, or about 500 feet. This provided a 10% buffer in the unlikely event a turbine fell over.
House Bill 483 wiped out the setback from houses entirely, and simply changed the property line setback to the former house setback (1,125 feet plus the blade length (1300 feet). The effect of almost tripling property line setbacks was devastating, requiring a project to attempt to procure hundreds of additional setback waivers and denying farmers the ability to place a turbine on their property.
WHAT DOES SENATE BILL (SB) 238 PROPOSE?
SB 238 is a middle ground between the old law and the current moratorium. It restores the setback from a house, but to 100 feet longer than the old law, and makes the property line setback "1.2 times turbine height," 10% greater than the old law. The chart below shows a comparison of the old setback, current setback, and the SB 238 setback.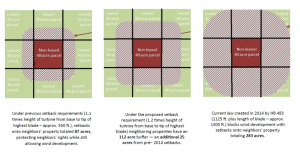 A SNAPSHOT COMPARING OHIO'S PRIOR LAW TO THE PROPOSED LAW: